It's Only Teenage Wasteland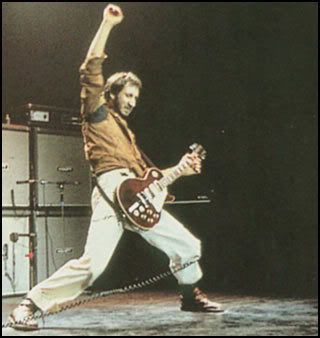 Technically I'm already breaking my own rule, but I'll make an exception for awesome news like this:
SANTA MONICA, CA - July 11, 2007- Harmonix, the leading developer of music-based games, and MTV Games, a division of MTV Networks which is a division of Viacom (NYSE: VIA, VIA.B), announced today that one of the most influential records in rock history,

The Who's iconic Who's Next, will become the first full length album available as a digitally-distributed game level for the upcoming videogame Rock Band™

- a first ever offering for a videogame. In addition to announcing full-length album availability, MTV Games and Harmonix also announced the first 16 Rock Band songs, spanning every genre of rock from alternative to classic to heavy metal. As previously announced Electronic Arts (NASDAQ: ERTS) will serve as the exclusive distribution and marketing partner for Rock Band, managing distribution for the game in US, Europe and Australia
Holy crapcakes! Who's Next is one of my all time favorite albums and there's not a bad track on it. I was already really excited about Harmonix's Rock Band, but this seals the deal for me.
[See
Kotaku
for the full story.]
Labels: Music, Video Games