Last.fm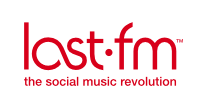 Fellow blogger Nectarine gave me a tip recently to check out a site called Last.fm. I'll admit that I had heard of it before, but I had never bothered to browse my way other there until today. The site essentially creates a custom radio station tailored to your tastes. That in itself is not especially unique; there are many sites that provide similar custom radio channels. There are three things, however, that in my mind really set Last.fm apart.
First is the sheer variety of artists. Last.fm appears to have collaboration from not only all of the major labels, but also a great variety of indie labels. You don't only get the hit songs either, because Last.fm has full albums. Furthermore, since musicians can upload their own music to the site, there are opportunities to get to hear some great up and coming unsigned bands.
Secondly, Last.fm gathers data not only from what you listen to on their site, but also from what you listen to on your computer. Downloading the lightweight Last.fm software allows them to track what you're playing from a wide variety of media players. I was initially a little wary about a company tracking information about how I listen to music, but the program is open-source and only extracts the song's name, artist and album from the ID3 tags. This information is used to suggest new artists that you might enjoy.
Finally, the system by which Last.fm recommends new music is very well done. If you hear a song that you really enjoy, you can add it to your Love list to hear similar songs more often. If you really dislike one of the suggested songs, you can simply click the Ban button to ensure that you never hear that song again. It's a simple, intuitive interface that works really well (unless you click the wrong button like I did, because there seems to be no way to undo a ban) [Edit: turns out you go to View Profile > Recently Banned in the Last.fm software, right click and "Undo Ban"].
Here are some of the great artists/albums/songs I've discovered through Last.fm today:
Brainfreeze Breaks, album by DJ Shadow & Cut Chemist.
I'm can't say I'm big on turntable music on the whole, but I love soul music. These two mix wizards apparently took some of the rarest old soul vinyl records (some virtually impossible to find today) and ripped them to shreds making this remarkable album. I've been listening to it all day; it's astoundingly good.
Call Me Up In Dreamland, song by Van Morrison
Heard this track while listening to "Sounds Like: Paul Simon". Great track from his early days that I hadn't heard before.
Time to Kill, song by The Band
Another fantastic song I hadn't heard before by an artist I love, apparently off the Stage Fright album (which I'm now going to have to check out in its entirety).
Not bad for one day's work. Go check it out for yourself.
Labels: Music