Puzzle Fighter II Turbo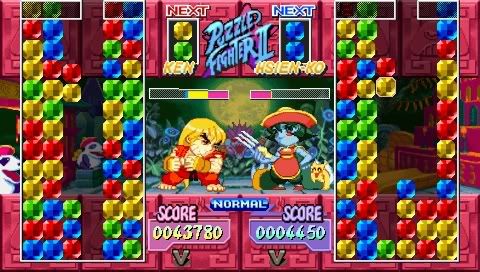 I've never been a big fan of puzzle games. Even the really classic ones, (Tetris, Bust-A-Move, etc.) only manage to entertain me for a short time before I'm compelled to move on. While I can certainly appreciate the sheer genius of deriving complex strategy from simple rules, the truth is that these games quickly become mind-numbingly difficult. It's been my experience that there comes a point in the learning curve of every puzzle game, usually right after you've wrapped your head around the game's mechanics, where it takes immense dedication and practice to make any kind of headway. Clearly some players thrive under these conditions; I am not one of them.
After hearing various rave reviews, however, I was urged to try Super Puzzle Fighter II Turbo HD Remix (what a mouthful) on the Xbox Live Arcade. Demoing arcade games is free, so in effect I had nothing to lose. Needless to say I was quickly hooked on the game's intuitive and fast-paced gameplay, which warranted downloading the full version for 800 Microsoft points (~$10). I won't go into detail here about the mechanics of the game, since it's the sort of thing that's best learned through seeing and doing. I will, however, describe what makes this game so enjoyable to me.
First and foremost are the incredible comebacks. My experience with Tetris leads me to believe that, for the average player, if you're approaching the top of the screen you've essentially lost. By that logic, a slip up or two can cost you the game. In Puzzle Fighter, however, it's really not over 'til it's over. A player with a large pile of bricks under them also has massive potential for a huge combo which will reverse the situation. Furthermore, the diamond bricks which destroy every brick of a single colour can give a struggling player a respite from which to launch a counter-offensive.
This leads me to my second point: playing head to head actually feels like a fight. Indeed, the symmetric nature is inherent to the game; the closest thing to a single player mode is you against the computer. Unlike Tetris, "staying alive" in Puzzle Fighter would be trivial if not for your opponent's actions. In that sense, just trying to keep your own pile of bricks small is not a viable strategy; the only way to win is to actively work at hindering your opponent. Playing against a friend on the couch the other day was tremendous fun, with taunts, near-wins and miraculous comebacks flying both ways. My Xbox Live tag is MrQuixotic if you're ever up for a friendly bout!
All in all, Puzzle Fighter is a terrific game even for us non-puzzle lovers. This experience has taught me that modern puzzle games don't have to be gruelling affairs with steep learning curves. I'll now be looking forward to Puzzle Quest when it hits XBLA sometime in the coming months.
Labels: Video Games